UN Report Calls for More Business Action on Sustainability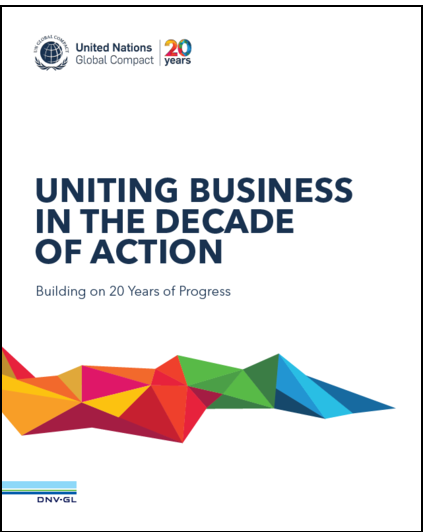 The United Nations has released a new report on private sector efforts to support the Global Compact and the UN's Sustainable Development Goals (SDGs).
The report, "Uniting Business in the Decade of Action," coincides with the 20th anniversary of the United Nations Global Compact, and the fifth anniversary of the UN SDGs. Participation in the Global Compact has grown from 44 business participants to more than 10,000 companies. The initiative also includes 3,000 non-business signatories and 68 Local Networks.
Today, with a global pandemic sweeping the world, the challenges are greater than ever before. "The COVID-19 pandemic, with its twin health and socio-economic crises, has swiftly and dramatically upended lives and livelihoods in nearly every corner of the globe," says UN Secretary General António Guterres. "It has exposed global fragilities and laid bare the rampant inequalities that were already making life difficult for the most vulnerable."
Gutteres says that the pandemic has made it more urgent that businesses and world leaders work toward meeting the goals in the 2030 Agenda for Sustainable Development. "The UN system is fully mobilized to save lives and ease suffering," the secretary general says. "Moreover, we know that recovery must not aim to simply go back to old ways and business-as-usual."
One of the key takeaways from the new report is that the business community needs to move from policy commitments to action that can lead to actual performance improvements. While 84% of businesses participating in the Global Compact take some form of action on the SDGs, only 39% are setting goals that are sufficiently ambitious, science based and aligned with societal needs, and only 46% have aligned sustainable development goals with their core business strategy.
"To truly succeed in driving sustainability outcomes, organizations need to focus on making sustainability sustainable," the report notes. "To lead a transformation of this scale and nature requires a high degree of legitimacy, personal impact and authenticity that all stems from the personal commitment to making the world a better place."