Sustainability Includes the Fight for Basic Human Rights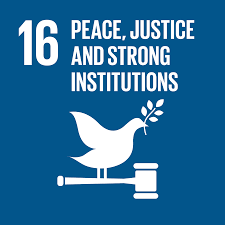 Fostering global peace, justice and strong institutions is an essential component of the United Nations effort to support sustainable development around the world.
"Advances in ending violence, promoting the rule of law, strengthening institutions and increasing access to justice are uneven and continue to deprive millions of their security, rights and opportunities and undermine the delivery of public services and broader economic development," says a recent United Nations report. "Attacks on civil society are also holding back development progress. Renewed efforts are essential to move towards the achievement of Sustainable Development Goal 16."
Violence is a ongoing concern around the world. The number of intentional homicides per 100,000 people increased from 6.0 in 2015 to 6.1 in 2017, according to the UN report. An increase in the homicide rates in Latin America and the Caribbean, and in some countries in sub-Saharan Africa, are reasons for concern.
Moreover, violence against children continues to be a problem in many places. In 83 countries, the UN report,, nearly 8 of 10 children from 1 to 14 years of age has been subjected to some form of psychological aggression and/or physical punishment at home.
"In all but seven of these countries, at least half of children experienced violent disciplinary methods," the UN report says. "Sexual violence is perhaps the most disturbing of children's rights violations. Based on the limited data available, in 14 of 46 countries with comparable data, at least 5 percent of women between the ages of 18 and 29 experienced sexual intercourse or other sexual acts that were forced, physically or in other ways, for the first time before they were 18 years of age."
Human trafficking is also increasing. The vast majority, 70 percent, of detected victims of human trafficking are women and girls, most of whom are trafficked for sexual exploitation, the UN report says.
Basic human rights are also under pressure. About 30 percent of people in prison are unsentenced detainees. Moreover, killings of human rights defenders, journalists and trade unionists are on the rise. From 2017 to 2018, the United Nations recorded and verified 431 killings across 41 countries.
The pace of progress to put in place national human rights institutions compliant with the Paris Principles must be accelerated, notes the UN. In 2018, a total of 39 percent of all countries had in place an institution that was fully compliant with the internationally agreed standard, seven countries more than was the case in 2015. If growth continues at the same rate, by 2030 only a little over one half (54 percent) of all countries worldwide will have compliant national human rights institutions.
"When it comes to human rights, there are no exceptions to those whom are protected under the Universal Declaration," says UN Secretary-General António Guterres. "Human rights are our ultimate tool to help societies grow in freedom, and we must rid the world of abuse, exploitation, marginalization, racism, torture and all exclusion."