Life on Land Is Threatened by Over-Development and Extinction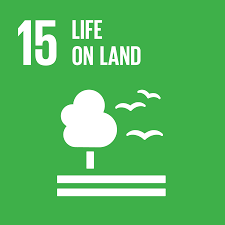 Life on land is under siege, and protecting terrestrial ecosystems and biodiversity is imperative. But, a recent United Nations report notes, while more key biodiversity areas are protected, land degradation continues. Moreover, biodiversity loss is occurring at an alarming rate, and invasive species and the illegal poaching and trafficking of wildlife continues to hurt vital ecosystems and species.
Protecting important sites for terrestrial and freshwater biodiversity is vital for ensuring long-term and sustainable use of terrestrial and freshwater natural resources. And, as the UN notes, healthy mountain ecosystems are fundamental to ensuring sustainability. As of 2017, 76 percent of the world's mountain areas were covered by some form of green coverage: 41 percent by forests, 29 percent by grassland/shrubland and 6 percent by cropland.
But land resources are under pressure from human activities. "From 2000 to 2015, more than one fifth of the Earth's total land area was degraded, largely due to human-induced processes, such as desertification, cropland expansion and urbanization," according to the UN. "During the same period, there were significant productivity declines in land cover, with grasslands incurring some of the greatest losses."
As the UN report underscores, the Earth is facing a crisis when it comes to bio-diversity. "The most fundamental and irreversible human impact on nature is species extinction," the report says. "The Red List Index – which measures the risk of extinction, in which a value of 1 indicates no threat to any species, and a value of 0 indicates that all species are extinct – has deteriorated from 0.82 in 1993 to 0.73 globally in 2019."
One effort to improve sustainability on land is the The Nagoya Protocol on Access to Genetic Resources and the Fair and Equitable Sharing of Benefits Arising from their Utilization to the Convention on Biological Diversity, which creates incentives to conserve and sustainably use genetic resources and biodiversity.
"Nature is dynamic and interrelated — and so must be our response," says Dr. Cristiana Paşca Palmer, Executive Secretary of the UN Convention on Biological Diversity. "We must move from the very real incremental change that we have created to a model that continues to push incremental wins while also fundamentally reaching for transformational change."