Progress on Decent Work and Economic Growth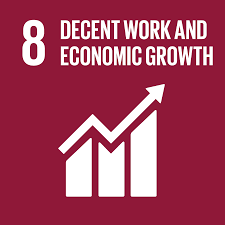 Economic growth over the past the past 25 years has reduced the number of workers living in extreme poverty. In developing countries, according to the United Nations Development Programme, the middle class now makes up more than 34 percent of total employment — having tripled between 1991 and 2015.
Continued economic growth, says the UN report, requires higher levels of productivity and technological innovation. "Encouraging entrepreneurship and job creation are key to this, as are effective measures to eradicate forced labor, slavery and human trafficking," the report says. "With these targets in mind, the goal is to achieve full and productive employment, and decent work, for all women and men by 2030."

The UN says that more progress is needed to increase employment opportunities, reduce informal employment, close the gender pay gap, and promote safe and secure working environments.

"The global unemployment rate has finally recovered from the global economic crisis," the UN report says. "In 2018, the global unemployment rate stood at 5.0 percent – matching pre-crisis levels. Youth were three times more likely to be unemployed than adults."

The UN target for SDG Goal 8 is for sustained per capita economic growth worldwide, including at least 7 percent gross domestic product growth per anum in the least developed countries. The UN initiative also calls for achieving "higher levels of economic productivity through diversification, technological upgrading and innovation, including through a focus on high-value added and labor-intensive sectors"